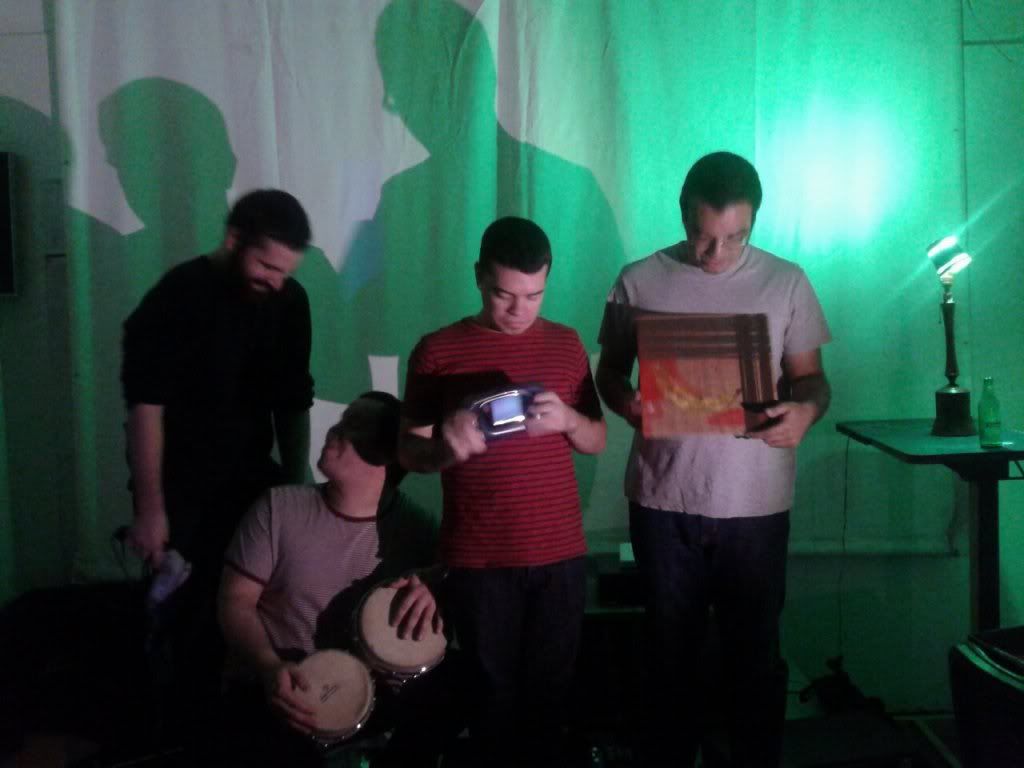 So, I'm finally getting down to talking about my prep for the A/V show, and some key details which I'd like to discuss. First of all, Eduardo Rosario, a.k.a. Gbln.Shrk, did all the organizing and promo for this show, he did an excellent job and the show went off without a hitch. Being that it was an A/V Machinist Collective show, it means more people are getting involved within the collective, something that makes me extremely happy. We're currently organizing the next set of A/V shows for the rest of the year, so we'll keep you posted on that.
As far as my set up goes, the tape series developed by Themis and I is something I'm very happy with. Inspired by Nam June Paik's Random Access pieces, we created our own set of cassette-tape instruments with audio content prepared by me and visual content by Themis. To read the pieces, I removed the tape head from a cheap cassette player, extended it, and attached it to the end of a brush. I plan on re-casing the body of the cassette player, just for my own aesthetic satisfaction, but for now it's the original. The audio from the tape is fed into Ableton Live for mixing and effects processing, which is controlled via the Padkontrol. Here I have an issue, I'd prefer to use Control on the iPad but the ad-hoc wireless connection keeps disconnecting suddenly, and obviously that's a definite show-stopper if it happens during a live set. And since the latency increases if a wireless router is used, maybe tethered functionality would be a good idea.  Add to that the fact that Ableton doesn't accept OSC (something that's a bit silly now-a-days) and you're forced to translate the OSC messages into MIDI using something like Pd or Max and then into Live, not that I mind either of these, it's just that it's another layer of stuff to do before you can get it to work. I think I'll end up switching completely to Pd. The ReacTIVision set needs a completely new patch to enhance the interaction between the fiducials and allow more control over the sound, I'll get on that.  End of rant.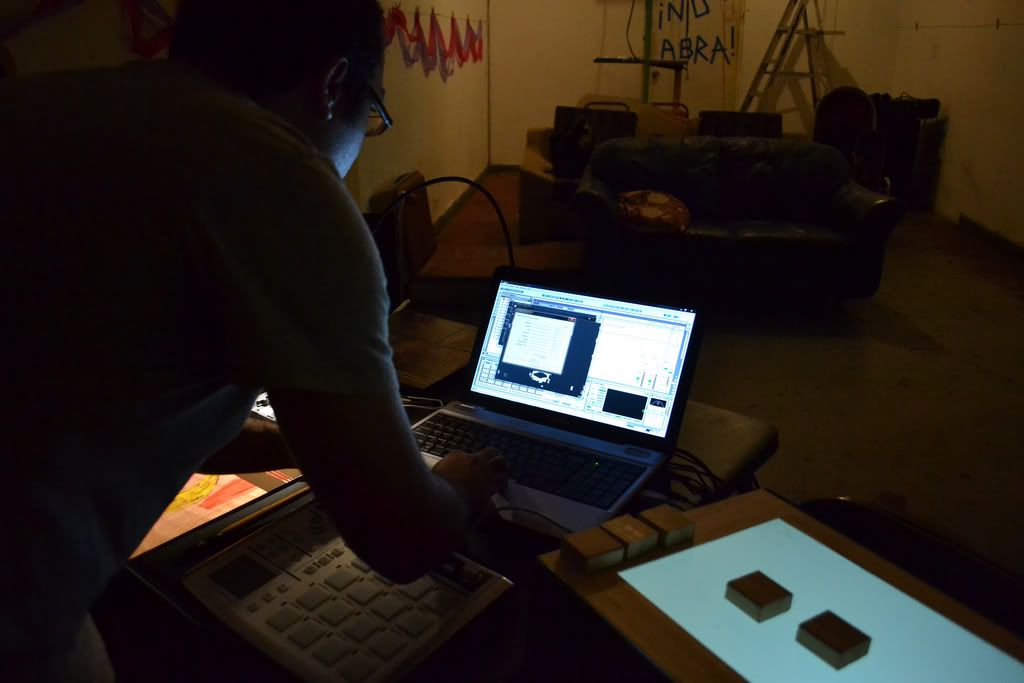 Gbln.Shrk- behind the ear piercing shrieks is careful consideration for composition and structure. The use of bent tools such as a toy hip-hop Santa Claus and the Über-Prepared Guitar make his sound palette pretty impressive. Plus he has a thing for performance art, and I don't mean "roll around on the floor and squawk like a bird", I mean that at some point he might play a kind of slide guitar with his bare feet while his hands are busy manipulating effects processors.
joythief – It makes me sad to say that this was officially his last show in Puerto Rico before he leaves to Pennsylvania, but it was a good one nonetheless. It seems like he's honed in on and polished his style, he knows his setup and flows between noise and musical elements, and his sounds seemed very tight and compressed and the volume controlled (which is difficult to achieve if you're circuit bending). Since the beginning, joythief has been my main collaborator in the A/V Machinist Collective and I will miss him terribly. Best of luck to you out there, my friend.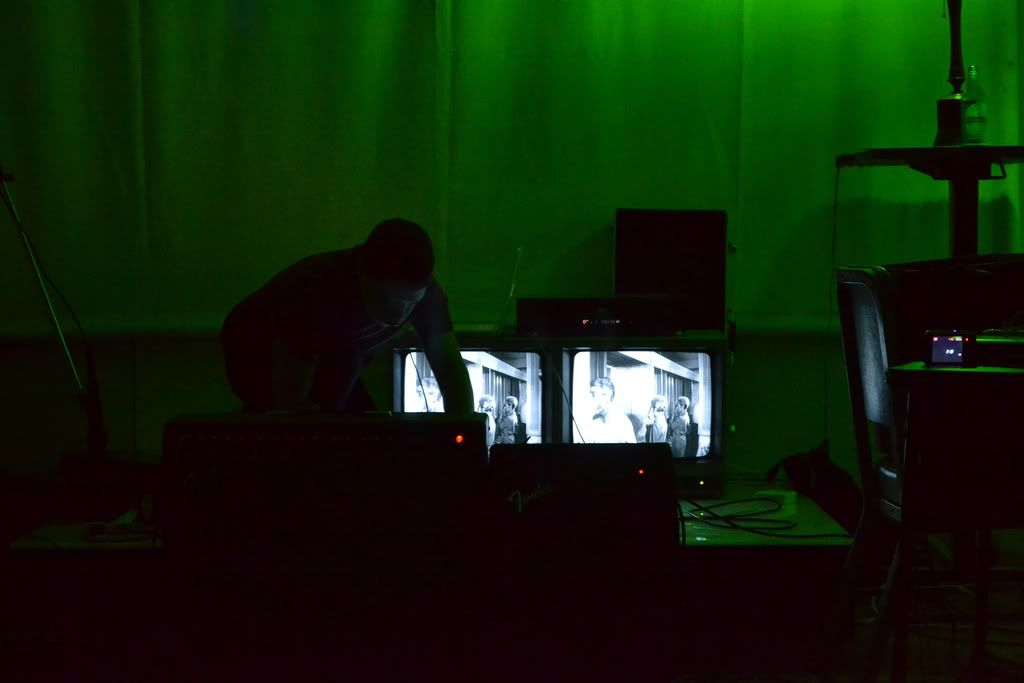 Polyhymnia – Earlier that night, Marcos had another show with Das Boots, a double-drums galore improvisation band which seems to be making quite the buzz locally, I haven't been able to catch one of their shows but I'm sure I will soon. It's great to see Marcos adding all those objects to his arsenal, new tools (literally, as his big ending was to hold a power drill and a mic up to a sheet of metal for about 2 mins) for his "search for sound" as he so well puts it.
This show was really refreshing to me, as it tells of how there are still some people out there who still need new sounds and new ways of achieving them. After the experience of Alea XXI @ the MAC, where Gbln.Shrk and I were forced to cut our set short (but more on that later), this show was much needed. Also, big time props go to the folks of El Local for allowing all of the ruckus to go on, and not a single complaint… kudos to you, sirs. And, of course, thanks to Sam @ ATTACKWORKS for the great pics and support.
As always, check out AVmachinists.org for the latest on the collective.